Seatrade Canning Corporation is located in General Santos City, considered as " the tuna hub of the Philippines." It has a processing capacity of 120 metric tons per day with the potential for further expansion. Its strategic location, together with the strong partnership with a reliable group of fresh fish suppliers, provides the bulk of tuna being processed.
Since 1991, Seatrade Canning Corporation has been a prominent supplier of canned tuna in many parts of Asia, Australia, Europe, and the Middle East, plus in selected US private-label brand markets. It is run by seasoned "Tuna Experts" with solid experience gained in the Philippines and abroad.
With its commitment to quality, Seatrade Canning Corporation has amassed a wealth of globally recognized accreditations, which can attest to its efficient plant operations, investor confidence, and full compliance to regulatory standards.
---
Fast Facts
Products
Canned Tuna Solid, Chunks and flakes.
Services
Toll Manufacturing, Contact Packaging, Private Labelling.
Plant Size
17,000 sq.m. with cold storage (additional 14,000 sq.m.)
Location
General Santos City South Cotabato, Philippines.
Workforce
More than 1500 employees composed of competent and values driven worker committed to excellence and sustainability
Clients
Wholesale importers, Food Distributors, Industry, Hotels, Restaurants and Retailers.
---
Our Products
Seatrade is committed to the excellent quality of its products and services. The company's dynamic management and dedicated workforce ensure efficient plant operation and compliance to regulatory standards.
Tuna Species
Skipjack(Katsuwonus pelamis)
Yellowfin(Thunnus albacares)
Packing Media
Water, Brine, Non-GMO Soyabean Oil, Sunflower Oil
Pack Style
Solid, Chunks, Flakes
Net Weight, Load and Count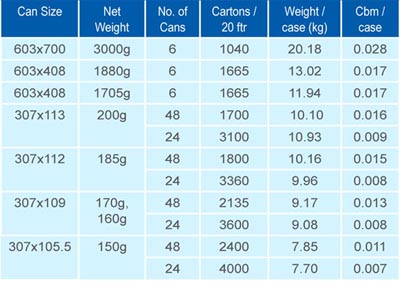 ---
Mission and Vision
VISION We are a processor and supplier of multi-diversified seafood products renowned worldwide for their quality, palatability, and dominance in the industry.


MISSION We are a Filipino tuna cannery committed to share with the global market a variety of high-quality seafood products processed by highly skilled workers using innovative technologies in a family-oriented work set-up. In pursuit of total quality, sustainability, financial viability, and growth, we ensure continual process improvement, compliance to regulatory standards, and preservation of nature.